Ocean Ridge Plantation Homes for Sale
Search Homes for Sale in Ocean Ridge PLantation
Brochure Request
Request more information about Ocean Ridge, including: community clubs and organizations, amenities, community map, golf details, area information, tax, healthcare an much more.
Featured Ocean Ridge Listings
About Ocean Ridge Plantation
Ideally located along the stunning shoreline of Brunswick County, North Carolina, Ocean Ridge Plantation has been captivating the hearts of families for more than 25 years. Ocean Ridge Plantation continues to embody the character of luxury coastal living, offering residents resort-like amenities, top golf experiences and quality custom homes. Our team of experienced agents is ready to help you navigate the Ocean Ridge Plantation real estate market. Whether you're looking for homes for sale in Ocean Ridge Plantation, or are just looking for general information about the area, we're here to help. Contact us today, or start your Ocean Ridge Plantation home search online.
About the Location
Ocean Ridge Plantation offers the benefits of city living with its convenient access to Wilmington, North Carolina and Myrtle Beach, South Carolina, but without the congestion, high-rise hotels and traffic. From the community gates, residents are just 25 minutes to the heart of exciting Myrtle Beach and 45 minutes to the north is the historic waterfront of Wilmington, North Carolina. Ready to recharge your batteries and relax oceanside? It is just 7-10 minutes to have your feet in the pristine sands of Sunset Beach.
Golf at Ocean Ridge Plantation
Golfers will feel right at home on the four 18-hole award-winning golf courses, offering some of the most diverse golf experiences in the Carolinas. Avid golfers have the opportunity to take advantage of the optional golf membership, while casual golfers are welcome to play at a reduced rate. Enjoy the comradery of the many golf leagues for men and women, or just go solo and play at your convenience. Fine tune your skills on the two driving ranges, practice greens and bunkers and on-site private golf lessons at their Golf Academy.
Live the Coastal Lifestyle
Ocean Ridge Plantation isn't just for golfers. Many residents were drawn in by the close proximity to the beautiful beaches of Sunset Beach, abundant water activities, and the small-town charm. Others are simply attracted to the landscape and idyllic setting; the 900 acres of greenspace and fairways create a manicured, parklike ambiance while the tree lined streets and beautifully landscaped grounds make you feel like you're home.
Water enthusiasts and active adults are at home in Ocean Ridge Plantation! Residents are just minutes to area marinas, public boating launches, fertile fishing grounds and abundant kayak channels and creeks that offer daily diversions and breathtaking excursions. If you're not already a boat owner, living here in coastal North Carolina will surely make you want to become one!
A Social Community
Be as social as you want with the more than 75 clubs and organizations within Ocean Ridge Plantation. The various groups appeal to a broad range of interests and schedules, allowing even the busiest resident to live an active lifestyle and be involved in their community. If your passion lies with physical fitness, the arts, spirituality, or gardening, Ocean Ridge Plantation has something for you.
Resort Style Amenities
The resort-like amenities are impressive and deliver the lifestyle options that residents expect from coastal North Carolina's premier golf and beach community. Ocean Ridge Plantation residents enjoy 72 holes of golf, a prized oceanfront beach club, indoor pool, outdoor pool, tennis & pickleball courts, community gardens, private residents club, 3,500 sq/ft outdoor pavilion, miles of walking and biking trails, and much more. A new community center is also planned and expected for 2022 completion. Whether you're looking to play a competitive sport, explore new hobbies, or just keep yourself busy during an afternoon off, there's plenty of fun to be had in Ocean Ridge Plantation.
Plenty of Real Estate Options
Ocean Ridge Plantation real estate options include pre-owned homes and lots for custom-built homes. If you choose to build a home, the community offers you the flexibility to build with any qualified builder and build whenever you are ready.
Homes for sale start in the high $400s, and come in all shapes and sizes. Most homes tend to have 3-4 bedrooms and 3-4 bathrooms, though some homes may have as many 5 bedrooms and bathrooms. The homes themselves sit on good sized lots with some being as big as a full acre.
Lots for sale start in the mid to high $20s, though some are as high as the mid $200s. The price of the lot all depends on its size, the view, and its location in Ocean Ridge Plantation.
Community Pro
A real estate professional is invaluable when searching for a community. With more than 16 years of experience assisting families in Ocean Ridge Plantation, you can rest assured that we have the answers.
Community Search
Search and request information from top communities in southeastern North Carolina. Start exploring leading lifestyle real estate options throughout coastal North Carolina.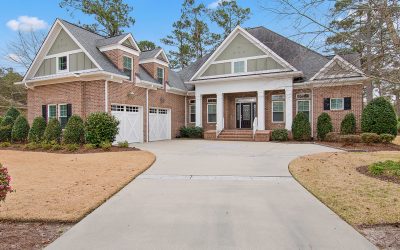 New Home Listing 6593 Spencer Place SW, Ocean Isle BeachPrice: $865,000Approx. Sq/ft: 3,720Year Built: 2011 Located in the prestigious community of Ocean Ridge Plantation, this home enjoys picturesque golf and water views of the award-winning Panthers Run golf course....
read more